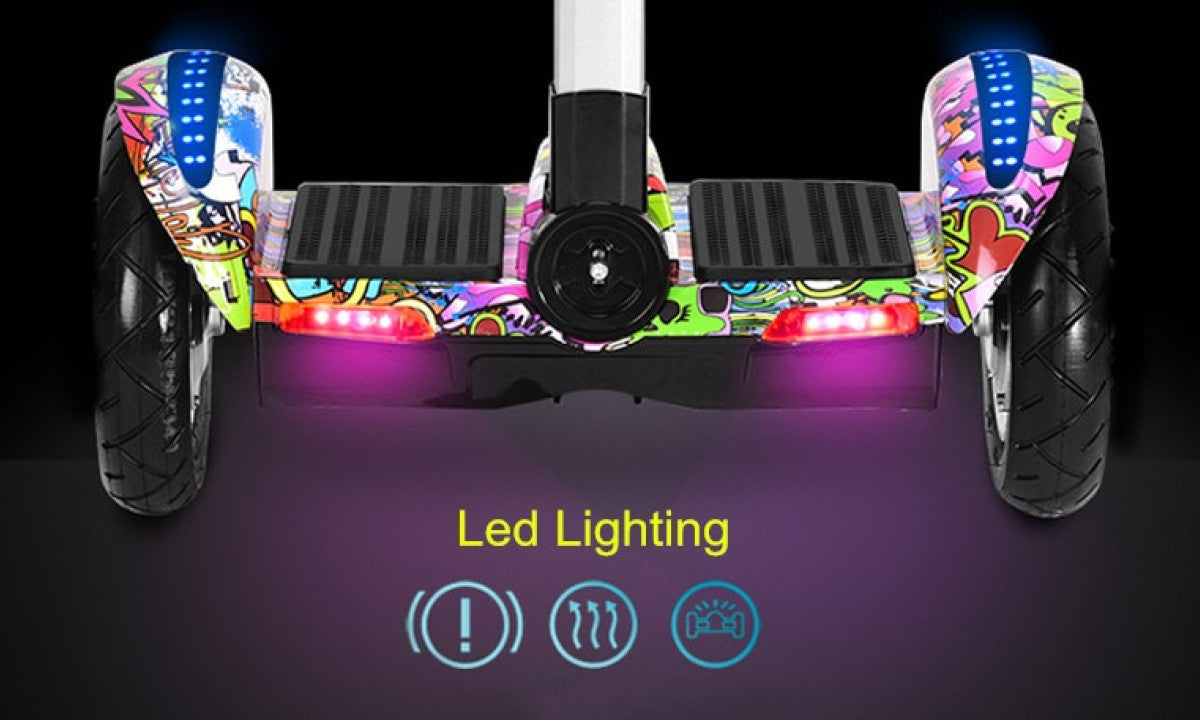 Introducing the Bigger & Better Segway Hoverboard Alternative Model
The New High-Tech Segway Electric Scooter Hoverboard with Handle w/ 
10.5 Inch Tires
We are proud to announce that we have a new & upgraded version of our highly demanded segway electric scooters (alternative to the Segway brand). Our customers have raved about the original 10 inch tire version, and the new 10.5 inch version is even more improved. If you are reading this and already know you want one, you can skip this reading and view our full collection of segway electric scooters here. In this article, we will briefly go over this new segway and provide some pictures displaying this amazing new product.
A Bigger & Better Segway Model
10.5 Inch Black Version w/ LED Lights, Just $699.95
As you can see from the picture of our black version above, this segway electric scooter is crafted to be more durable, bigger, and better than any previous version. With huge 10.5 inch tires, this segway allows the rider to smoothly cruise over large bumps and other objects with ease. With a thicker handle, larger frame, and both wider and longer base, this segway is our most durable. Its hoverboard-influenced style allows the rider to complete more precise turns and even full 360 degree spins. This segway is truly a beautiful performing machine.
Unique Colors/Designs & Tires
10.5 Inch Blue Camo Version w/ LED Lights, Just $699.95
Along with being bigger & more durable, this new version of the segway electric scooter hoverboard includes higher-performing LED lights that really catches the attention of onlookers. The designs follow the same general designs as our 10 inch models, and we also added a new "lava" red and black model to our offerings. While the 10 inch tire models have regular silver rims/wheels, one very cool thing about the 10.5 inch tire segways is that they include a design/color covering on the rims/wheels as seen in the blue camo version above. This adds style to the segway that is unmatched by any other competing product.
8-9% the Price of Segway Brand Models
In this blog that we wrote two days ago, we compared the cheapest Segway brand model available that includes handle bars to the alternative models we sell at Way Up Gifts. We showed you that our models are less than 10% the price of their models. With this upgraded version, these segway hoverboards are high performing machines that some even enjoy more than Segway brand models, which many find are more boring.
In Sum
Again, we are extremely excited about offering this new & upgraded version of our segway electric scooter. These unique hoverboard-influenced segways are one of our most highly demanded items & for good reason. As the Christmas season is almost in full swing, this product is an absolute must have for kids to adults alike. We are currently offering these 10.5 inch segway electric scooters at deep discounts so get one while they are still available! We hope to connect with you soon.