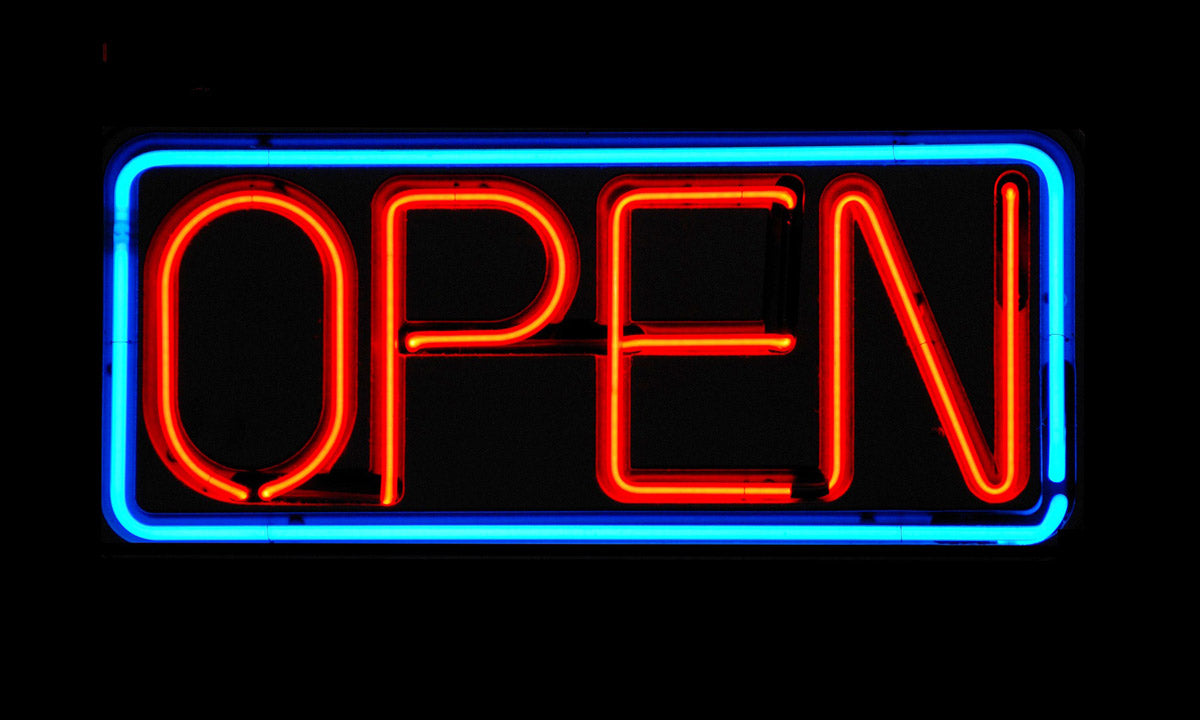 What Color Neon Sign is Right for Your Home or Business
Deciding on What Color Neon Sign is The Best
Neon signs are an excellent choice for both businesses and homes. Businesses can use them to attract and communicate with customers while home owners can use them for decoration and to express their personality. However, neon signs can come in almost any color, so you may be wondering which color neon sign is right for you and if there are any things you should consider before buying. In this article, we will go over things to consider regarding the color of a neon sign for both businesses and homes.
Neon Signs for Bedrooms, Man Caves & Home Decor
14"x9" Love Life Neon Sign, $144.95
If you are thinking about purchasing a neon sign to create a unique home decor, you have made an excellent decision. Neon signs can enhance a bedroom, make a man cave come alive, or decorate virtually any other room you desire.
When it comes to the color you choose, neon signs for homes have less of an importance than neon signs for businesses. This is because neon signs for homes are almost always placed against a wall, while neon signs for businesses are typically placed in a window. Businesses may be concerned about the brightness of the color they choose, but because neon signs for homes are placed against a background (the wall), the color will almost always shine brightly.
The one thing you may want to consider, however, is how the neon sign's color will contrast with the color of the wall it is being placed on. For example, a white neon sign can still work against a white wall, but it may be less clear compared to if it was placed on a dark-colored wall. To create a visually attractive display, you should ensure the color of the neon sign and the color of the wall it will be placed on have some contrast. The main concern, as we mentioned, is having the same color neon sign against the same color wall. This will likely create a less visually attractive display, and it will make it less clear.
Other than what we have just mentioned and because we already explained the background of the wall will typically improve the brightness of the sign, you cannot usually go wrong with any color neon sign for a home. So, just ensure the color is not the same as the wall, and any sign will almost always end up improving and enhancing a bedroom, man cave, or other room.
Neon Signs for Businesses
17"x14" Breakfast Neon Sign, $199.95
If you are a business owner or employee searching for a neon sign, there is likely more important factors you want to consider than a neon sign for a home. This is because businesses need to be concerned about attracting customers to their store and ensuring their customers will see the neon sign.
Our typical recommendation is to not choose a very light color such as white or yellow if you are using the sign a lot in the daytime in a window. This is because darker colors such as red will allow customers to read the neon sign from farther distances. One thing you can also consider is to get a neon sign that flashes colors or can switch between multiple colors via a controller, such as our multicolor Lite Sign™ Neon Signs.
If you are using a neon sign against a wall, you can review our recommendation for neon signs for homes above as the same idea applies. In short, any color will work well but you may want to stay away from a neon sign color that is the same color as the wall. A contrast between the sign and the wall color is recommended.
Lite Signs
™

Neon Signs for Business & Home
Personalized Lite Sign™ Neon Sign, Starting at $27.95
A unique option that is more affordable, durable & modern than a typical neon sign is our Lite Signs™ Neon Signs. These signs combine LED light bulbs with neon colored lights over a 3D image to create a stunning display. They improve upon traditional neon signs in many ways. They are available in over 1,500 designs and you can also create a custom sign.
Yet, if you are looking for a traditional neon tube sign, these may be slightly brighter than Lite Signs™ due to the nature of the neon tubes, and you can also find regular neon signs in our store by using the search bar.
Putting it All Together
As we have seen, neon signs are an excellent choice for both businesses and homes. If you are wondering about what sign is right for you, there are just a few simple things to consider. If you are placing the sign against a wall, you may want a sign that has a color that at least slightly contrasts with the wall behind it. If you are a placing a sign in a window, you may want to stay away from light colors like white or yellow and choose a darker color like red, especially if you are using the sign in the daytime. For an interesting alternative to traditional neon signs, check out our exclusive Lite Signs™ Neon Signs. You can also find traditional neon tube signs on our site using the search bar. We hope you enjoyed the article and look forward to connecting with you soon!